"Nashi Predky-Our Ancestors" Spring 2016 Genealogy Workshop
Featuring staff members of the U.S. Holocaust Memorial Museum, who will give presentations on documenting the experiences of Ukrainians and other ethnic groups during and after World War II, and how to make use of the research resources at the USHMM and the International Tracing Service.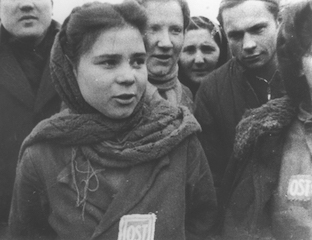 Session will include presentations on the USHMM's Oral History Collection, the research materials and services available at the USHMM, and the International Tracing Service. The Oral History Collection has been making a major effort to interview Ukrainians (and other non-Jews) who suffered or witnessed persecution during WWII. The presentation will explain how to participate in the Oral History Collection and the other documentation efforts of the USHMM.
The USHMM holds extensive research materials, and presenters will explain how to search the Museum's collections and even get free research help from Museum staff. Among the most important resources at the USHMM for genealogists and family historians is their ability to directly access the holdings of the International Tracing Service. The USHMM is the only institution in North America that has the ability to directly search the ITS Central Name Index and provide copies of digitized documents. The USHMM staff members will be bringing their computer terminals to the March 19th event, and they will devote the entire afternoon to one-on-one research sessions with conference attendees, who will be able to immediately obtain digitized ITS documents (a big deal, since getting an answer back from the ITS can take many months). Research slots are strictly limited, and will be assigned "first come-first served" in the order of registration.
During the afternoon research slots, Nashi Predky organizing committee member Justin Houser will give a talk on basic genealogy research methods and Ukrainian Historical and Educational Center archivist Michael Andrec will give an overview of the history of the World War II era. Attendees will also have the ability to mingle, network, and/or get help from genealogy experts.
The USHMM is supported by the US Federal Government, and outreach efforts such as this are part of its mission. This allows us to offer this event for a special discounted rate of only $40 per person. This includes the morning talks by USHMM staff, lunch, a 30 minute one-on-one research session (if you register early!), and afternoon talks and networking opportunities.
March 19th, 2016 9:00 AM through 4:30 PM
Ukrainian Cultural Center




135 Davidson Avenue




Somerset

,

NJ

08873




United States