"Rediscovering Your Family Stories" Spring 2017 Genealogy Workshop
The Nashi Predky - Our Ancestors Family History Group takes the show on the road for its first-ever event in the Pittsburgh metro area! Join fellow genealogists from Pennsylvania, Ohio, and surrounding areas for informative talks and networking opportunities.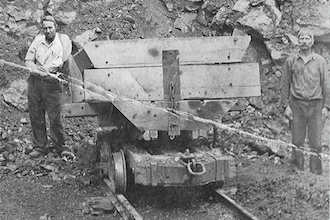 Online registration is now closed, but there are plenty of spaces left and we welcome any on-site registrants!
Speakers will include Justin Houser, Michael Buryk, Rich Venezia, and Michelle Chubenko, and will feature talks on
The Basics of Ukrainian Genealogy
Finding and Using Ukrainian Church Records
The Aliens Are Coming: USCIS Record Sets
History of Lemkos, Boykos, and Hutsuls
Using Gazetteers, Directories & Schematisms for Eastern European Research
The speakers will help you answer your questions, you'll have time to network with fellow genealogists (who may have family from the same region or village as you), and have breakfast and lunch provided, all for only $55! ($45 if you register by March 31st.)
The event will take place at the Ukrainian American Citizens' Club in Carnegie, Pennsylvania, which has many connections to early Ukrainian immigration. Carnegie is easily accessible by car, being conveniently situated at the junction of I-79 and I-376. Note to locals: the venue is on Mansfield Boulevard in Carnegie, which is not connected to Mansfield Avenue in Pittsburgh. For out-of-town attendees, there are a number of hotels in the area, including DoubleTree (500 Mansfield Ave, Pittsburgh, PA 15205), Crowne Plaza (401 Holiday Dr, Pittsburgh, PA 15220), and Courtyard by Marriott (5100 Campbells Run Rd., Robinson Township, Pittsburgh PA 15205).
Payments can be made by credit card securely through PayPal, or by check prior to March 31st.
The greater Pittsbugh area has many attractions that may be of interest to genealogists, including a Ukrainian museum at Sts. Peter and Paul Ukrainian Orthodox Church down the street from the event venue, the Heinz History Center in Pittsburgh, and a Civil War museum and reconstructed Grand Army of the Republic post at the Andrew Carnegie Free Library in Carnegie. Also, the University of Pittsburgh has its Nationality Rooms, including the Ukrainian Nationality Room, which cost $250,000 to construct and which is modeled on a room in Kyiv from 500 years ago. The workshop does not include any tours of these attractions, but attendees can visit them on their own or organize a small group if there is sufficient interest.
The workshop will open for registration and breakfast at 8am.
Late-breaking additional events!
We are very pleased to announce several value-added features on the weekend of the workshop which are being provided by partnering groups:
LEMKO INFORMATION SESSION AND MINI-VATRA: After the workshop ends at 4:30 p.m., enjoy some refreshments and take in the 6 p.m. presentation by Mark Howansky, the President of OOL (the Organization for the Defense of Lemkivshchyna).  Mark will speak about the OOL, what it does, and how to get involved in this organization. THEN, around 7:30 (weather permitting), we will adjourn to the outside of the facility for a mini Lemko Vatra! Yurko Honchar will provide firewood, we will light the traditional bonfire, and we also have someone to lead us in singing traditional folk songs. It will be an evening that you don't want to miss! Whether you have Lemko roots or not, you are, of course, welcome for a fun time! 
MUSEUM TOUR: If you are staying in the area overnight, on Sunday afternoon at 2 p.m., we invite you to tour the Ukrainian Museum hosted in SS. Peter and Paul Ukrainian Orthodox Church, just up the street from the workshop site. The Museum will be open for a special tour just for our attendees! Meet at the church, 220 Mansfield Boulevard, at 2 p.m. For those who desire to attend worship services on Sunday morning, we will also provide a list of local Ukrainian and Eastern European Churches in your welcome packet.
Hotel information is provided as a convenience to conference attendees. They are not recommendations, and the Ukrainian Historical and Educational Center and Nashi Predky cannot guarantee quality of accommodations.
May 6th, 2017 8:00 AM through 4:30 PM
Ukrainian American Citizens' Club




302 Mansfield Boulevard




Carnegie

,

PA

15106




United States