UHEC facilities are open to the public by appointment only.
We are continuing to present
an extensive schedule
of online programming as well as small-scale, socially distanced in-person events.
Read more...
Ukrainian Christmas Paper Crafts
Decorate your Christmas tree with ornaments made from materials you have around the house! Make a garland, bird ornament, a Nativity Star, and a 3D ornament of straw!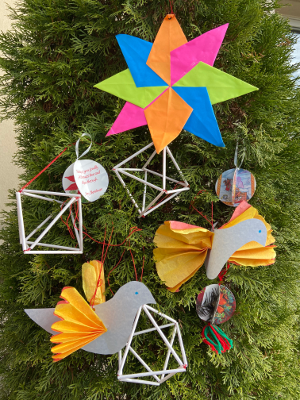 The very first ornaments used to decorate Christmas trees in Ukraine in the beginning of the 19th century were made using materials that were easily accessible and affordable, such as apples, candles, cookies, straw (soloma), hay (sino), or paper products. Straw and hay were materials that were easily accessible to Ukrainians, as well as in other parts of Western Europe, who also had the tradition of making ornaments made of straw. In this workshop, participants will learn how to make ornaments and decorations using supplies easily found at home (paper, thread, and 21st century straws). This workshop will demonstrate how to make garland, bird ornaments, a star, and a 3D ornament of straw.
Suitable for grade school aged children, and children of all ages!
Crafts taught by Oksana Pasakas, UHEC Education Programs Coordinator.
You must provide your own supplies for this workshop. 
This event is FREE and will take place ONLINE via GoToMeeting®, but registration is required. You will receive a seperate email with a personalized link to GoToMeeting a day before the event. 
Supplies needed for this project:
Colored Cardstock Paper
Construction Paper (various colors)
Tissue Paper (various colors)
Scissors
Glue Stick
String
Embroidery Thread
Long needle or long wire
Markers, Pencils, Crayons
Old Christmas Card fronts, optional
Templates (included in packet)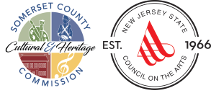 UHEC folk art programming is made possible by funds from the Somerset County Cultural & Heritage Commission, a partner of the New Jersey State Council on the Arts.
When
December 22nd, 2020 7:00 PM through 8:00 PM
Fees
| | |
| --- | --- |
| Voluntary donation | $ 1.00 |