Exhibits
September 25, 2022

to

April 30, 2023
Linocuts by Mykola Bondarenko
On display will be a selection from a series of over 70 prints created by Ukrainian artist Mykola Bondarenko in 1993. They are an artistic response to the Holodomor, the genocidal artificial famine of 1932- 1933 perpetuated by the Soviet government which resulted in the death of untold millions of Ukrainians. Most of the prints depict various plants and animals that people were forced to eat in order to survive. From an early age, Bondarenko was fascinated by stories of the past told by elders in his village, and the "recipes" in this "Cookbook" are based on the first-hand accounts of survivors.
Stay tuned for further details in early Fall 2022.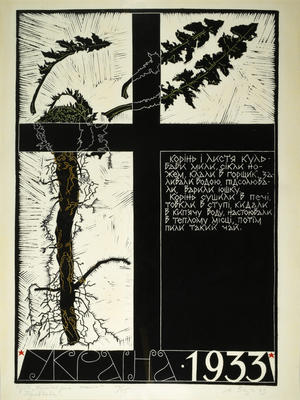 While the Center's new museum building is under construction, we are presenting exhibits in the Library Gallery.
This gallery occupies the location formerly used by the UOC of USA bookstore, and has been completely refurbished for use as a gallery, including the installation of museum-grade UV absorbing film on the windows to protect the displayed artifacts from sunlight damage.
View map and get directions.
View UHEC's online exhibits