Crafts for Kids with the UHEC: Ukrainian Tryzub Mosaic Art Workshop (Virtual)
In this workshop, young artists will learn about the Ukrainian Flag and the Tryzub, or trident, and make their own mosaic flag or Tryzub using the traditional colors seen both on the coat of arms and the flag of Ukraine—blue and yellow.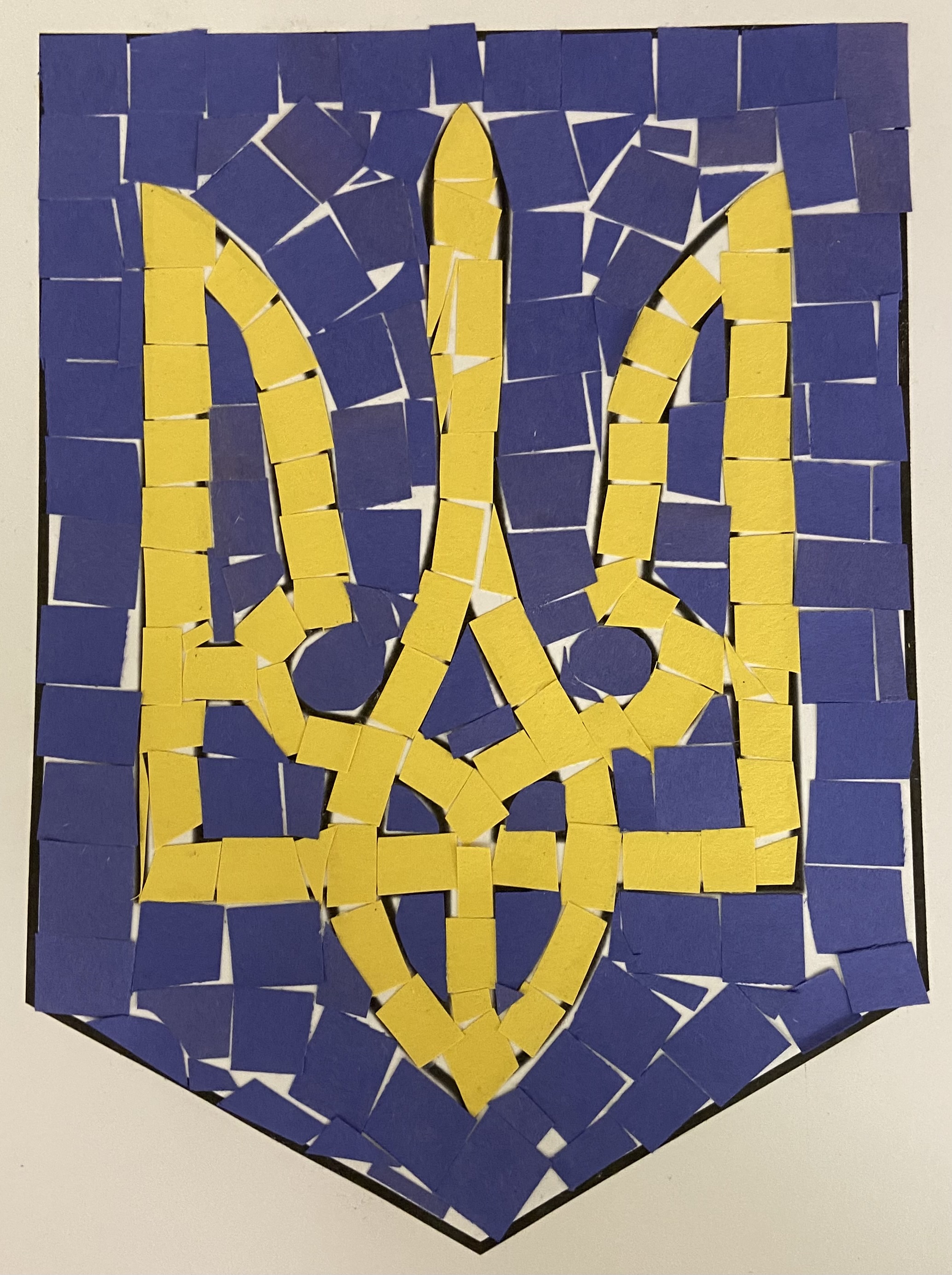 The Tryzub is the coat of arms of Ukraine. It is depicted as a blue shield with a gold trident. This coat of arms, or tryzub, comes from the seal-trident of the first Prince of Kyivan-Rus, Prince Volodymyr. It was first considered as the national symbol in 1917 and was adopted as the coat of arms in 1918 for the Ukrainian People's Republic. After Ukraine declared its independence from the Soviet Union in 1991, the Tryzub was formally adopted to be the coat of arms on February 19, 1992.
Ukraine celebrates two holidays in August: the Day of the National Flag on August 23rd and Ukrainian Independence on August 24th. To celebrate, young artists will make both a Ukrainian flag and Ukrainian tryzub in the style of mosaic art. 
Mosaic, in art, is the decoration of a surface with designs made up of closely set, usually variously colored, small pieces of material such as stone, mineral, glass, tile, or shell. Mosaic pieces are applied to the surface using an adhesive (i.e. glue).
This is a live, interactive workshop and will not be recorded. 
You must provide your own supplies for this workshop.
Suitable for grade school aged children. Seating is limited to 25 participants.
Taught by Oksana Pasakas, UHEC Education Programs Coordinator
This event will take place ONLINE, but registration is required. 
Supplies list:
Posterboard or Thicker Paper
Blue and Yellow construction paper, precut into small squares
Flag and Tryzub templates found on pg. 4 & 5 of the packet
Scissors
Glue
Hole Punch & String, optional
This workshop is FREE, but registration is required. The day before the event, you will get a personalized link to access the workshop. 
Donations gratefully accepted.
When
August 21st, 2022 1:30 PM through 3:30 PM
Fees
| | |
| --- | --- |
| Voluntary donation | $ 1.00 |