"Saving Ukrainian Cultural Heritage Online"
"Saving Ukrainian Cultural Heritage Online", or SUCHO, has been working since February to digitally preserve Ukrainian cultural content on the Internet. Learn about this amazing project from two SUCHO volunteers.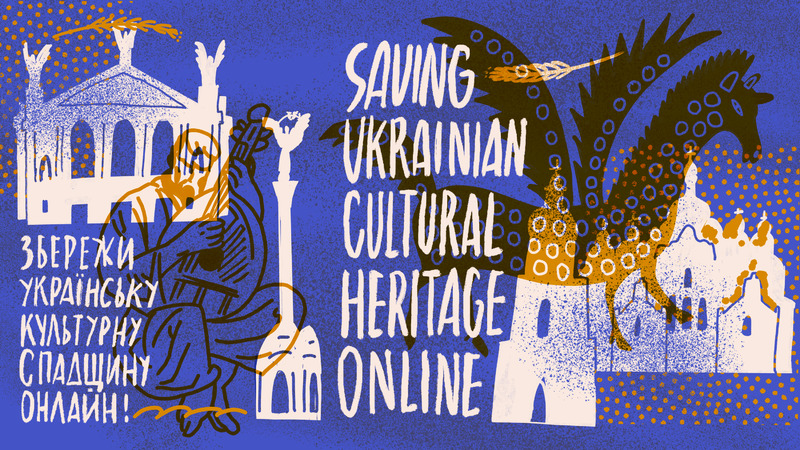 SUCHO is an initiative of over 1,500 international volunteers who have collaborated online to digitize and preserve Ukrainian cultural heritage since Russia's full-scale invasion in February. SUCHO has web-archived more than 5,000 websites and over 50TB of data of Ukrainian cultural institutions, to prevent these websites from going offline. The websites range from national archives to local museums, from 3D tours of churches to children's art centers.
SUCHO volunteers Erica Peaslee and Kiley Jolicoeur will give an overview of the SUCHO story and efforts to support Ukrainian colleagues, and share some hidden gems of digital Ukrainian Cultural Heritage.
Erica Peaslee is the Administrative Operations Coordinator at Centurion Solutions LLC, a Disaster and Emergency Management consultancy, where she also provides expertise regarding cultural heritage. Using her background in museum collections and her graduate education in Museum Studies (Harvard), she is particularly interested in centering cultural property in emergency planning and promoting communication between the two communities. Erica currently serves as Situation Monitoring Coordinator for SUCHO, leading the observation and coordinationreal-time events in Ukraine to direct response efforts to the most at-risk areas. In addition, she also works with other professionals at the intersection of cultural heritage, crime, and emergency response to work towards similar goals protecting Ukraine's heritage.
Kiley Jolicoeur is the Metadata Strategies Librarian in the Department of Digital Stewardship at Syracuse University Libraries, where she designs and implements metadata solutions for the digital library's archival and academic content. Her research focuses on the development and application of metadata practices rooted in ethical theory and social justice. She is currently involved with SUCHO's gallery working group, designing metadata to describe web-archived cultural heritage objects for the public Omeka gallery and hosting weekly team working meetings. She also works on a number of other related SUCHO projects, including developing metadata for the initiative's information needs and curating memes from social media for the Meme Wall.
This is a free event, but you must register to attend.
When
November 15th, 2022 7:00 PM through 8:00 PM
Event Fee(s)
| | |
| --- | --- |
| Voluntary donation | $ 1.00 |