Folk sculpture and decorative arts in Mazepa's residence in Baturyn
Запрошуємо на науково-популярну доповідь на тему: "Народня скульптура та оздоблення Мазепиних покоїв у Батурині: Археологічні дослідження 2013 р."
Доповідь виголосить історик-археолог, науковий працівник КІУС та співкерівник українсько- канадської археологічної експедиції у Батурині д-р Володимир Мезенцев (Ph.D.)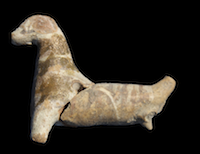 We invite you to a talk about the latest archeological finds at the site of the Kozak capitol of Baturyn.
Dr. Volodymyr Mezentsev, historian, archeologist and co-director of the Ukrainian-Canadian expeditions to Baturyn, Ukraine, will present a lecture about his team's archeological research.
Lecture will be in Ukrainian with Power Point illustrations.
Suggested donation $10
For additional information, please call Natalia (732) 356-0090
February 16th, 2014 1:00 PM through 3:00 PM
St. Andrew Memorial Church Hall




1960 Easton Avenue




Somerset

,

NJ

08873