Crafts for Kids@UHEC: Floral Folk Art Canvas Painting Workshop (Virtual)
In this workshop, young artists will paint a floral work of art on canvas utilizing their initials and inspired by Ukrainian folk art and applied art ornamentation.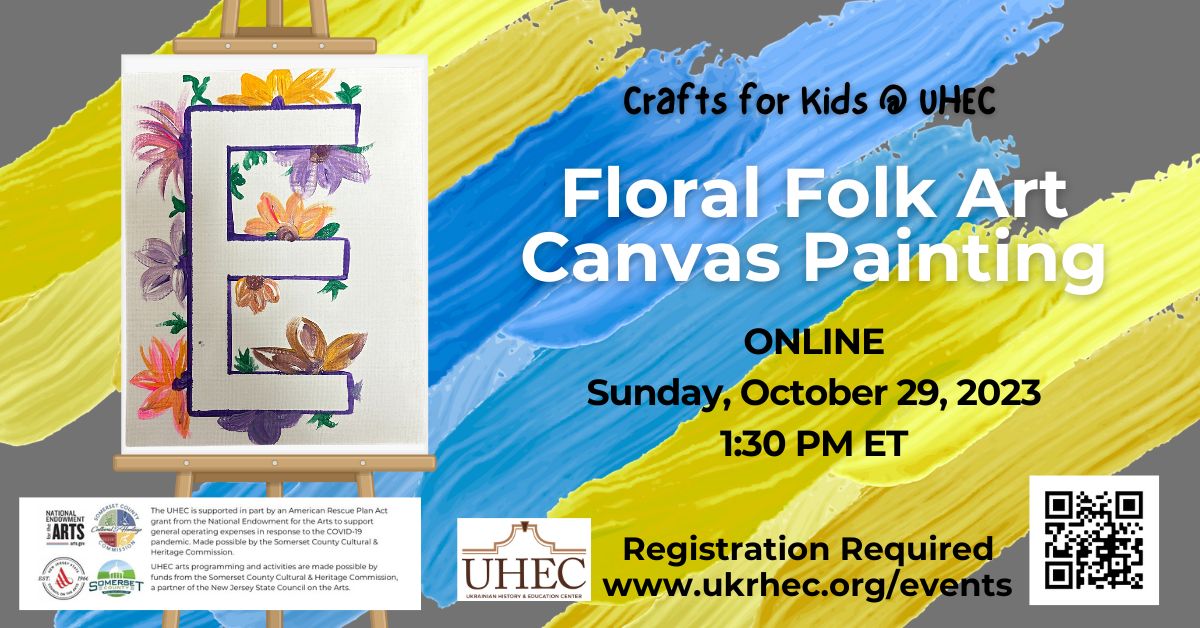 Ukrainian applied arts and folk arts are richly enhanced by the beautiful artwork and painting styles. Central Ukrainian homes and other household products such as mugs, vases, carts, or trinket boxes are decorated by colorful floral designs. In this workshops, young artists will learn about different ornamentation styles used in Central Ukraine and make their own decorative canvas painting based on their intial of their name (or their Ukrainian initial)!
This is a VIRTUAL workshop. The workshop will be live, interactive and will not be recorded. 
Suitable for grade school aged children. Seating is limited to 25 participants.
You must provide your own supplies for this workshop.
Supplies List:
Canvas (any size, preferably 8x10) or acrylic/canvas paper

Small canvases can be purchased at the Dollar Tree or other craft stores 

Blue Painters Tape (1/2" to 3/4" thickness)
Scissors 
Acrylic or Poster Paint 
Paint Brushes (thin to medium thickness)
Cup with Water (to wash paintbrushes)
Paper Plate (to mix paint)
Paper Towels 

This workshop is FREE, but registration is required. The day before the event, you will get a personalized link to access the workshop. 
Donations gratefully accepted.
Registration closes Saturday,October 28 

When
October 29th, 2023 from 1:30 PM to 3:00 PM