Nashi Predky 2022 Spring Conference
The Nashi Predky Spring Conference will be online again this year. It's a great lineup of speakers, and you can participate even if you are not in New Jersey!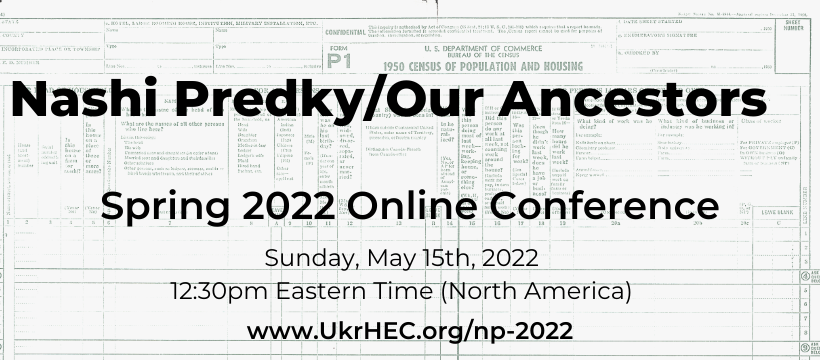 When we were planning this conference, Omicron was raging, and so we decided to yet again have the conference online.
What we certainly did not expect was a Russian invasion.
In addition to creating mass displacement, suffering, and death, the war in Ukraine has, of course, severely curtailed researcher access to Ukrainian archives, and has prevented us from having any speakers from Ukraine this time around. Regardless, we have a great, though slightly abbreviated, program on topics relate to records in the United States, and tools and case studies that you can make use of when Ukrainian archives again become accessible.
You'll be able to hear talks and pose questions to the speakers on topics as varied as
Researching Jewish ancestry in the areas of Ukraine formerly in the Russian Empire
The 1950 Census, by genealogy superstar Stephen Morse!
Research tools for Galicia and Bukovyna
As in previous years, UHEC members receive a 10% discount!
When
May 15th, 2022 from 12:30 PM to 4:30 PM