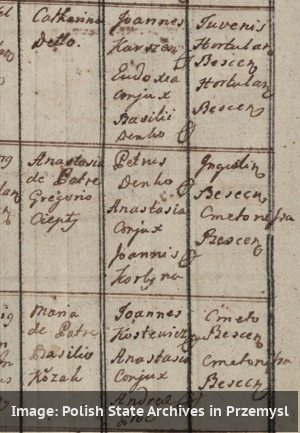 By Justin Houser
Parish records from the former Austro-Hungarian province of Galicia are scattered over a wide variety of archives throughout Ukraine and Poland. Many of these records still must be accessed in person, via correspondence, or through a researcher, and still others are stored away in USC/RAHS local vital records offices or even in parish churches. Nevertheless, you can find an increasing number of parish records online.
Here are some tips of places to start your search to see if the records from your village are already available online, or at least figure out which archives you need to contact:
Check out the published Shematisms of Przemysl, L'viv, and Stanislaviv (now Ivano-Frankivs'k) Eparchies compiled by the late Fr. Dmytro Blazhejowsky. Portions of the data (but not all of it) for villages in the Lemko region have been extracted and are available online. For those of you not familiar with the term, a "shematism" (derived from the same Greek word from which we get the English words "scheme" and "schematic") is a compilation of basic data and summary statistics about every parish in an eparchy. They usually include the name of the church, the property owned by the church, the number of parishioners, and possibly the priest serving that parish.
Check out the FamilySearch catalogue where you can search by village name: https://familysearch.org/catalog-search. A surprising number of records have been microfilmed.
To locate parish records from Przemysl Eparchy, check the Polish PRADZIAD database to determine what is in Polish State Archives: http://baza.archiwa.gov.pl/sezam/pradziad.php?l=en
Also check the Polish archival digitization site: http://www.szukajwarchiwach.pl/.
The Przemysl archives has its own site with scans of vital records from its holdings: http://www.przemysl.ap.gov.pl/skany/.
Don't forget to check the AGAD Archive in Warsaw, which has some digital images online: http://agad.gov.pl/.
The site http://geneteka.genealodzy.pl/ has extracted records from all over Poland, including some from SE Poland.
Check the FamilySearch digitization project which has a lot of Western Ukraine Greek Catholic registers: https://familysearch.org/search/collection/1910265.
Note that most of the Ukrainian Greek Catholic records for L'viv Archeparchy are in the Central State Historical Archives of Ukraine in L'viv. Much of this is in the FamilySearch catalogue.